Why do we need a professional Makeup artist and Hair dresser for our wedding day?
Getting married is such a big day for a bride and groom, but to the bride it is more about what she looks like on the day.  All eyes are on the bride and the bridesmaids.  It's a little like the Brownlow and the Melbourne Cup with fashion and how the ladies present themselves.  What is the dress like and how have they completed the look with accessories, hair and makeup
With so much preparation going into a wedding to make sure everything is perfect, it only makes sense that the bride and her entourage look amazing.  Can you imagine walking down the isle with a gorgeous dress on which looks a million dollars and then eyes jump move up to the lovely brides face to wonder why it doesn't quite look perfect.   Once you have on the amazing dress, the accessories, hair and makeup are needed complete the look.
By having wedding makeup applied, it doesn't mean having a heavy wear foundation and dark or overdone eyes.  Your makeup needs to fit with your theme, the time of your wedding and importantly you, so you feel comfortable.  I like to recommend to my clients a natural makeup application, dramatic eyes and a soft colour lipstick for the bride.  The bridesmaids can afford to go with more colour to reflect their dress shade.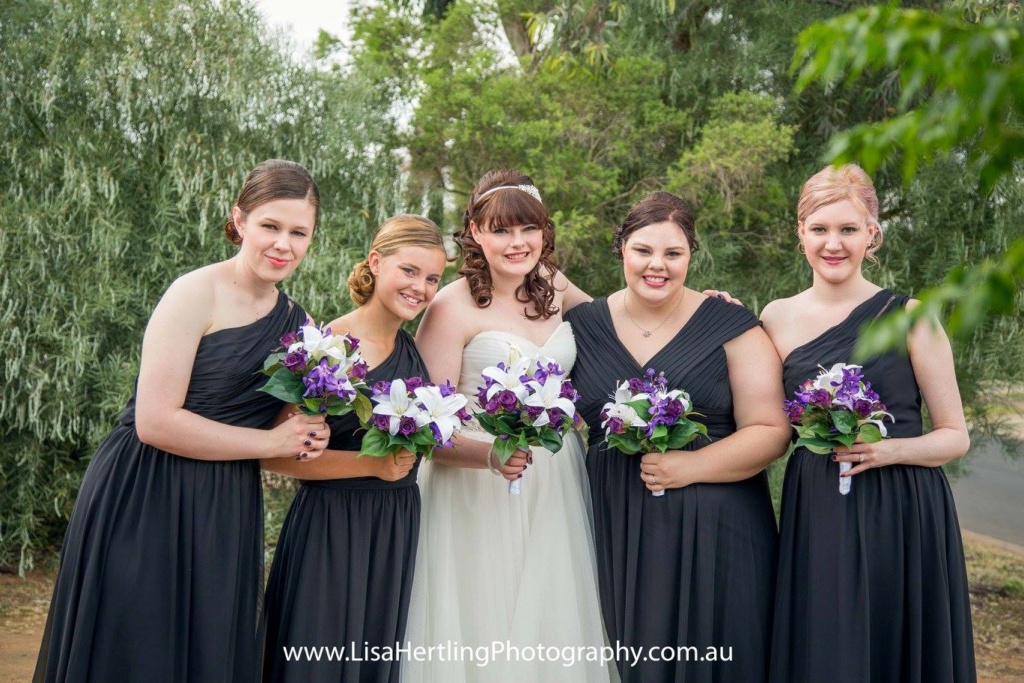 If you are considering a theme wedding such as the sixties, medieval or Breakfast at Tiffany's to name a few, it only makes sense to work with stronger colours with makeup.  It is also the same for wedding hairstyling.  Trends change all the time, so it is vital that we are up to date with what is happening around the world.
Your wedding photographer will also want you to have the right look for the best photos and remember that your face is what is going to stand out. Incorrect makeup and application will give a washed out effect with the photos.   If you don't normally wear makeup or little of,  a good makeup artist will ensure your face doesn't have a caked on layered effect .  You can still look flawless with minimal and natural makeup and if you have ever wondered what it is like to wear false eyelashes, this is the time to wear them.  False eyelashes come in a range of styles and are just perfect if you need the extra volume and give the finished look with natural or heavier makeup application.
" professional makeup artist brings years of experience in special occasion makeup, and will tailor their craft to suit your needs and wishes. They are trained to work with all ethnicities, face shapes, skin tones, and ages, and can enhance your best features while cleverly disguising anything you perceive as a flaw "- See more at: http://www.makeupbykylieprice.com.au/myblog/bridal-makeup-why-choose-a-professional
I work with one of the most amazing hair dressers Anna from Alpha Brides.   https://www.facebook.com/alphabridesbyanna/photos_stream   I have come to learn so much about why and how your hair should look on the day of your wedding.  Caring for your hair on the lead up to your big day with the proper use of hair products and water temperature are all part of the advice you will get from a professional hairdresser like Anna.  How to wear your hair on the day is all about what you like, but the hairdresser will help you choose the perfect look if your not sure.  Do you need hair extensions (which can also be shared with other members of your bridal party), what type of curl will best suit your hair texture and how long will it take to get your ideal look on the day?  Your curls should still be in your hair by the end of the night and with the Alpha Brides team, don't be surprised if your hair still has the curl the next morning.
Look for a hairdresser who can give you all this.  It is what makes the difference is between a good hairdresser and an amazing hairdresser.
Should you have a trial for hair and makeup before your wedding day?  Absolutely. With makeup, a huge kit is present and with all the colours of the rainbow your trial is about experimenting with what you feel comfortable with.   Have your bridesmaids also get together for a party plan hairstyling and make a day of it.  You need to know how you will look on the wedding day and also importantly, it will ensure you know how long the process takes on the morning of your wedding.  We want to make sure you are ready in time for your photographer and get you to the church on time.  Ladies, this is your time to relax and soak up the pampering.  If you have the two services together, why not make it on the day of your hens night or another special occasion.
For your wedding day, l highly recommend having your hairdresser and makeup artist come to you.  This is a service  Blush Blooms and Events  and Alpha Brides  offer to our clients.  Time and relaxing is extremely important.  If you decide to go to a salon, ensure you know the salon well and how they run on the day of a wedding.  You want to know who is doing your hair and make sure the morning is dedicated to your bridal party.
Remember that you are spending a lot of money on a photographer, a dress and your wedding as a total.  It doesn't cost much to have a hairdresser and makeup artist apply their magic.
Putting things to perspective, the cost of hiring a makeup artist and hairdresser for the day is minimal.  You shouldn't have to compromise on a special day where pampering and looking amazing is all part of the package.  This is your special day, enjoy it 🙂
for some more great ideas and packages for Blush Blooms and Events,  please visit https://www.blushbloomsandevents.com.au/makeup-beauty-packages/ or contact Justine on 0419 846 266