As a general rule of thumb, the bride will normally carry a flower design larger than that of the bridesmaids. The bride is the centre of attention, and this will also mirror with her flowers.
So to size, choose a flower design which won't overshadow your dress. If you go too large with a flower bouquet, it WILL  hide your dress. For example, a large bouquet or wide trailing teardrop just won't work as well with a slender pencil slip.  Your dress is what is to stand out and your flowers act as the final touches to balance your overall look. A very small flower posy will also not look effective or balanced with a full princess Diana dress design or someone with a fuller frame. It can make you look larger if your flowers are too small.
The only time l would suggest to go extra large with your flowers, where your flowers can overshadow your wedding dress and bridesmaid dresses is if you are choosing to have a bohemian wedding theme.   With this theme, you can go to town with lots of flowers and it won't look out of place
If you are a tall bride, you can get away with longer teardrop flower designs. A shorter bride should avoid a long cascading teardrop so she doesn't look stunted in height. This teardrop bridal design is perfect for the bride and is in balance with her stunning dress.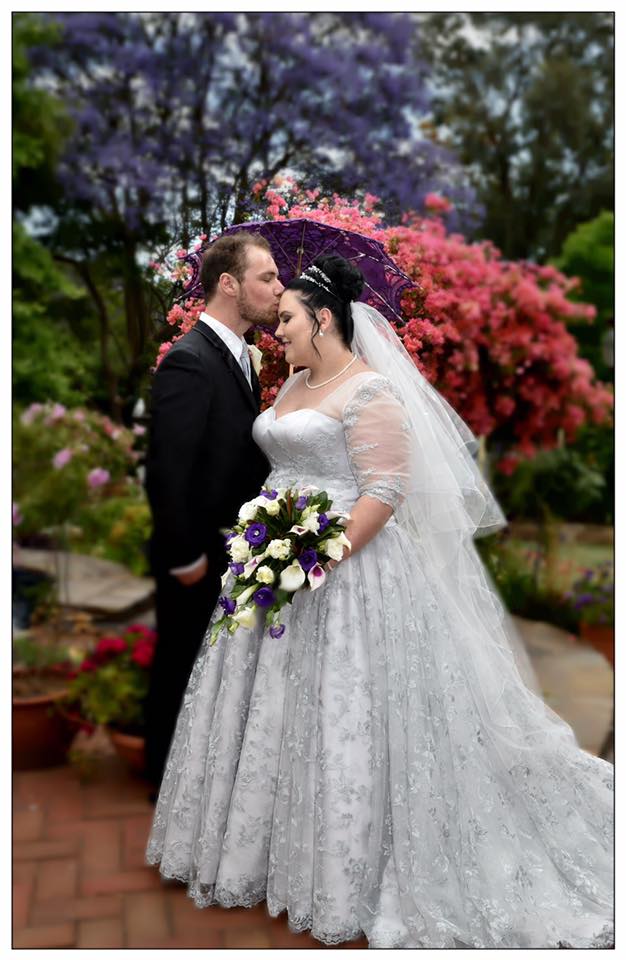 Also consider the location and theme of your wedding . Do you have a wedding theme?
Have you chosen a glamour, traditional princess style wedding or something with a theme to what is trending currently with 2016 weddings? Adelaide wedding flower trends for 2016 vary  at the moment. I am seeing a popular request for large mixed seasonal flowers to give an unstructured look with lots of added berries and lush country greenery. Where glamour weddings and traditional structured rose bouquets are still asked for, there is a shift for wedding flowers to have a more relaxed feel. Gypsophila posies is one popular ask and a mix of flowers to include large seasonal flowers like dahlias is another. Take these theme trends for examples.
Bohemian style wedding
Vintage, Rustic wedding theme
Country and Forest wedding themes.
If budget is important and you want a very small posy, there are ways of making this happen, but smarter. For example, longer stem sheath flower designs work well with less flowers. Alternatively, a flow of lose country, whimsical flowers will work well and also help keep costs down.
The table below is what we recommend for our bouquet sizes with Blush Blooms and Events and our wedding packages. The sizes will vary with the flowers you choose, so these sizes will work on an average scale.  If you are looking at having lots of greenery, this will make your design larger. If you love peonies or lilies, not as many will be needed to gain the sizes marked below, but if you prefer the smaller size flowers like roses, tulips and Singapore orchids, more flowers will be needed to give you the desired size effect.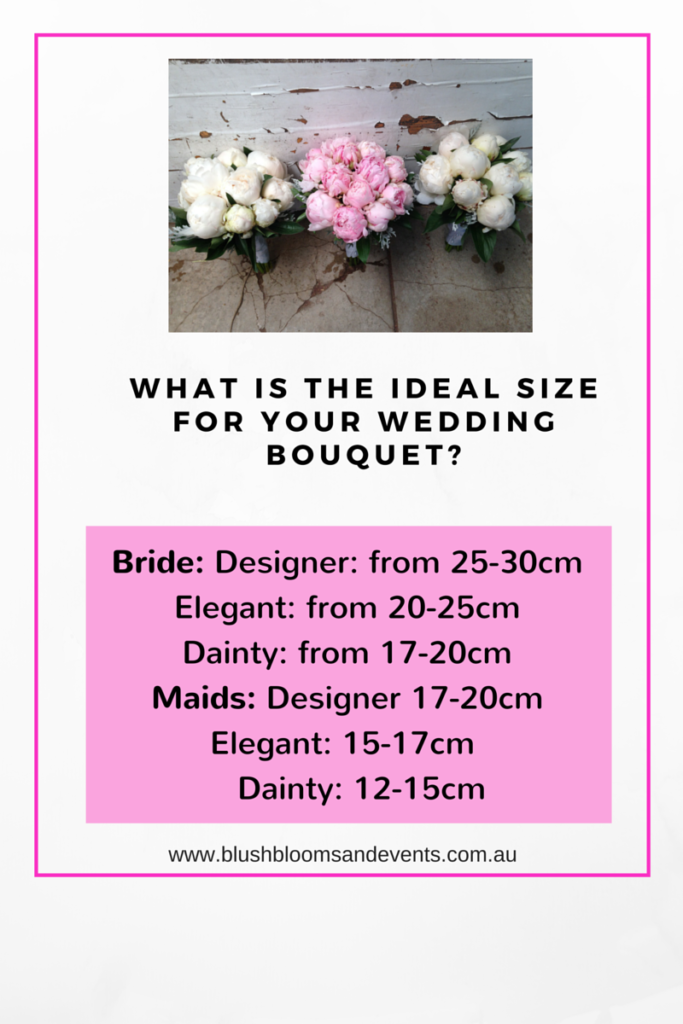 If you are looking for a quote or more ideas on which size and style is ideal for you, send me a personal email here at Justine@blushbloomsandevents.com.au or drop us your wedding party requirements here for a fast no obligation quote and guide.
Have you joined our growing social community yet?  For more ideas and competitions, connect with us here at
www.blushbloomsandevents.com.au
0419846266